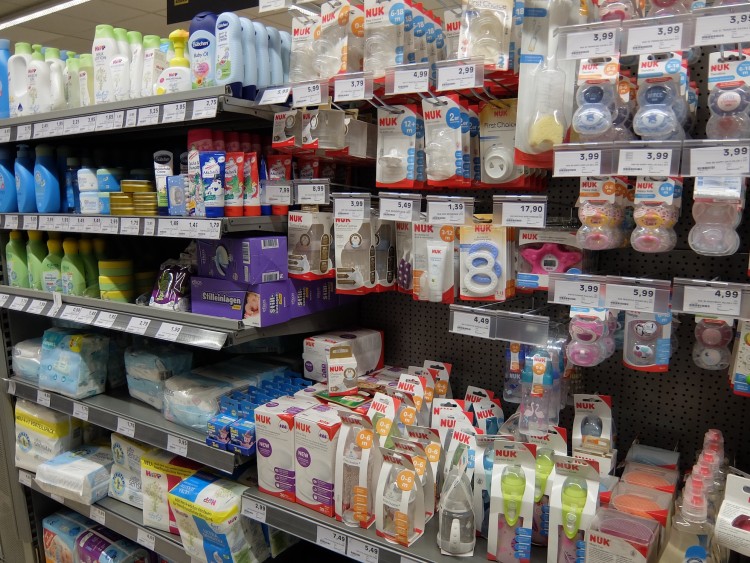 2020 January 17
Pregnancy & Baby Stores in Stuttgart Area
This is an overview on where to buy pregnancy clothes and everything for your baby.
Shops carrying everything from maternity clothes, childrens clothes to strollers & furniture
Korbmayer– everything but $$$;
Here you find nice maternitiy clothes and baby stuff; Shop downtown near the market place – upmarket brands
Baby Walz: – everything $$; They have some materniy clothes and everything for the baby - Shop downtown near Königsstrasse
Baby One: – everything $$ Shops in Stuttgart Leinfelden, Stuttgart Feuerbach
Princess: - everything - (very good for strollers / furniture) in Metzingen $$
4 Mamis - nice maternity clothes in Metzingen, 07123-726331 Schreiberei 1,72555 Metzingen $$
Galeria Kaufhof - clothes / nursing bras / toys from $ to $$ - 2 department stores in Stuttgart downtown
H & M - clothes for mothers to babies and children / nursing bras $ - several stores in Stuttgart (Königsstraße, Milano, Breuningerland) $
Zara: clothes for babies and children, shop in Königsstraße $-$$
Breuninger $$$ Stuttgart downtown, Pricey but lovely clothes for babies and kids no maternity clothes.
DM Drugstores $-$$
They have a range of clothes for newborns and toddlers –a lot of them organic, sleeping bags and a lot of other useful things pre- and post pregnancy. And of course the usual to be found in a drugstore (different brands of diapers, wet wipes, snacks, formula, bottles...), BUT not every shop has clothes. Check their website for the one closest to you.
C & A $ everything, pregnancy clothes, baby & children clothes; e.g. in Königsstraße
My Toys $$ - Shop downtown Stuttgart, Königsstraße; only baby clothes and kids stuff
Ernestings Family $, clothes for babies and children, no pregnancy clothes - shops around Stuttgart (e.g. Schwabengalerie Vaihingen, Epplestr in Degerloch)
Jako'o $$-$$$ - clothes, toys and furniture. Lots of useful clothes e.g. outdoor
Brands
nearly all brand stores have clothes for kids as well (like Esprit, S Oliver, Globetrotter, Sport Scheck just to name a few)
Cheap & good but offers change on a weekly basis
Please check what will on offer in the internet.
Tchibo $
Can be found in supermarkets like Edeka or their own stores e.g. Degerloch, Stuttgart downtown, Vaihingen Schwabengalerie)
Aldi Süd /Lidl $ : sometimes there are pregnancy clothes and baby clothes in their offer, very good rain gear, ski gear and boots. You must look in the internet or prospects to know what is on offer for the following week.. When they offer clothes they are often sold out early - so go on the day it is in stock. Germans love them and they are often cheap but good quality.
Aldi Süd and Lidl
Second hand:
Facebook: Stuttgart Maternity/Kid Shop and Swap (Germany)
Stores: clothes & goods in good but used quality for a low price:
Mütze Süd, Gebrüder-Schmid-Weg 13, 70199 Stuttgart , http://www.mueze-stuttgart.de/index.php/second-hand-laden.html
Kinderkaufhaus Zorella Hackstr. 9-11; here you find kids clothes and toys and they have a shop for adult clothes, too (Stöckachstr. 16)
Der kleine Prinz, Neue Weinsteige 1, 70180 Stuttgart https://www.kleiner-prinz-stuttgart.dehttp://windrad.mycylex.de
Windrad Gablenberger Hauptstraße 111, 70186 Stuttgart - Facebook Page
Kinder Second Hand Zauberwald, Tübinger Str. 97A, 70178 Stuttgart (close to Marienplatz)
Online there are some platforms to bye pregnancy clothes and other usful things for your baby:
mamikreisel, kleiderkorb, kalaydo, lila-laune-shop
Kindersachenbazar - second hand from other moms
In Germany it is quite common to buy used children's goods at a so called Kindersachenbazar - an organised event by a Kindergarten or church, similar to a flea market, where mothers and fathers sell what they do not need anymore.
Here is a direct link to our blog post on our partner page Kiramiga - beyond relocation.


July 2019 Dr. Christine Krämer, M.D.
This blog post has been prepared with the greatest possible care and does not claim to be correct, complete or up-to-date."

Follow us and tell someone of us today - thank you!
https://www.instagram.com/gravidamiga/
https://www.facebook.com/gravidamiga
or more general information about life in Stuttgart on our partner page
Kiramiga and sign up for our NEWSLETTER on our website.
We love what we do and hope you love it, too.
Please support us and our work by donating us a coffee or a prosecco :-)
Thank you.
---
---