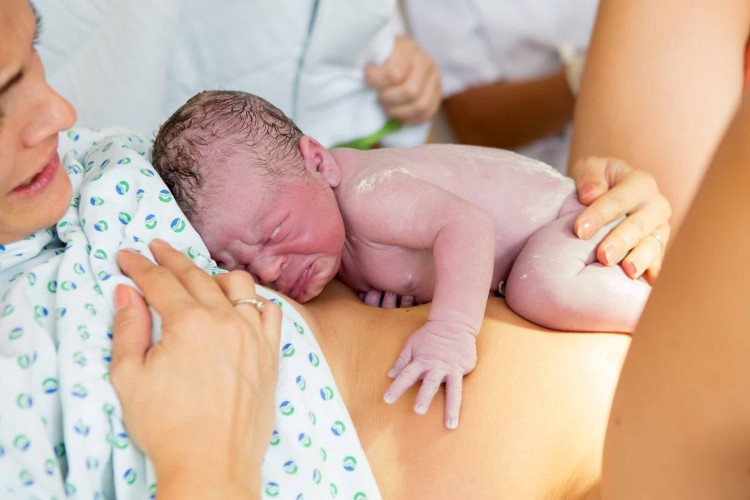 2022 February 03
Midwife Delivery Room
A place between home birth, a birth center and a clinic.
In addition to having your baby at home or in a clinic under medical supervision, there is also the option of going to a midwife delivery room. There are several hundred of these all over Germany.
But what is a midwife delivery room?
A midwife delivery room is a delivery room in a clinic, where women are cared for exclusively by midwives. A doctor is not present.
Requirements
However, there are requirements that a woman must fulfil in order to give birth in a midwife delivery room. The pregnancy should have progressed without complications and the mother or child should be healthy. Therefore, we recommend that you contact the appropriate delivery room by phone about eight weeks before the birth and make an appointment for planning. They will check whether you are eligible to give birth in such a delivery room. You can also get to know the midwives and build up trust.
difference between this and a normal delivery room in a clinic?
In the midwife delivery room, the midwife can concentrate more intensively and individually on the woman giving birth. Medical interventions are in the background. The natural birth process can be encouraged, which often makes it easier for the women to relax and let go. Only naturopathic methods are used to facilitate the birth.
A huge advantage over a home birth is that the midwife delivery room is located in a clinic.
Therefore, medical help can be called in at any time, if complications arise during the birth.
But even then, the pregnant woman does not have to be moved to another room, but the doctor comes to the birth. This provides greater security.
There are no special costs for such a place of birth.
My conclusion (as a gynAecologist)
I am enthusiastic about this concept. Promoting natural birth is an important step in enabling women to have a positive and self-determined birth experience.
Of course, the midwife delivery room should not replace the conventional delivery room under medical supervision, but for healthy women with an inconspicuous pregnancy it is a great addition.
January 2022 - Dr. Christine Krämer, Gravidamiga
This blog post has been prepared with the greatest possible care and does not claim to be correct, complete or up-to-date." Picture credit: Adobe Stock licensed

Tell someone of us today - thank you!
https://www.instagram.com/gravidamiga/
https://www.facebook.com/gravidamiga
or more general information about life in Stuttgart on our partner page
Kiramiga and sign up for our join NEWSLETTER.
We love what we do and hope you love it, too.
Please support us and our work by donating us a coffee or a prosecco :-)
Thank you.
---
---