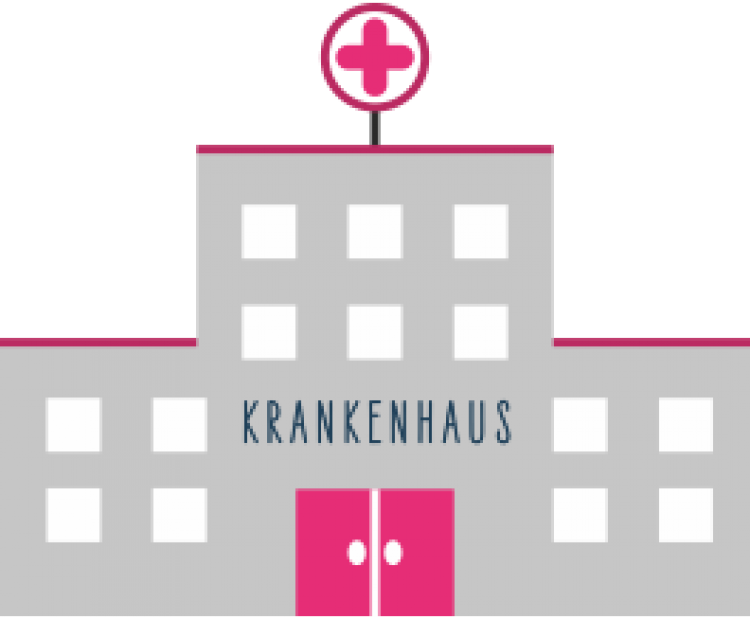 2021 November 24
Hospitals for giving birth in Stuttgart
Here you can find a list and a MAP of the most important hospitals in Stuttgart Area to give birth in.
In Stuttgart and the surrounding area, there is a large selection of clinics where you can give birth.
How to chose the hospital to give birth in
The choice is often difficult and it is not possible to give a reliable advice.
It is important that you and your partner feel comfortable in the chosen hospital.
Feeling safe and secure are important factors for giving birth and the first step to a good birth experience.
Talk to your OB GYN

Before you choose a hospital, it is important that you ask your gynaecologist, if your pregnancy can be classified as a risk pregnancy or if there are reasons to choose a special clinic (e.g. with a level 1 perinatal center).
Difference of the Clinics
The standard of all clinics in Stuttgart (and the surrounding areas) is very high and each has its advantages and disadvantages. They differ, for example, in size (number of births per year) and in the possible care of newborns (connected pediatric clinic or monitoring station). If the pregnancy is inconspicuous, the largest clinic with maximum equipment does not necessarily have to be the best for the birth. Smaller clinics in particular are often more personal and individual.
The parents' newspaper Luftballon has put together a great list in a special on baby and birth, in which you can see the differences between the clinics. You can download the issue here.
https://www.elternzeitung-luftballon.de/files/luftballonbabyspezial_2020online_1.pdf
It is in German, but you can understand the list (page 14-19) without knowing much German.
Our MAP for you
Another important factor is the distance between home and hospital. A hospital for childbirth should be easily and quickly accessible and thus also be well located for the partner and any siblings.
Therefore we have created a Google map for you.
Here you can find all the hospitals where you can give birth and if you go to the hospital on the map, you will find the address and phone number of the delivery room.
You can download this map onto your cell phone and thus always have the important delivery room numbers with you.
Call the Hospital Delivery Ward before you leave!
It is always good to have a plan B for the delivery.
Our recommendation is to call the delivery room at the beginning of the birth and announce your arrival.
It can happen that the hospital is full and you may have to consider an alternative.
So it is very relaxing to have a second hospital that you can call now.
Virtual Delivery Room Tours
If you have any questions about the hospitals, join our Gravidamiga Mama Talk on Facebook.
Your Gravidamiga Team
October 2021 Update Gravidamiga Team.
This blog post has been prepared with the greatest possible care and does not claim to be correct, complete or up-to-date."

Tell someone of us today - thank you!
https://www.instagram.com/gravidamiga/
https://www.facebook.com/gravidamiga
or more general information about life in Stuttgart on our partner page
Kiramiga and sign up for our NEWSLETTER on our website.
We love what we do and hope you love it, too.
Please support us and our work by donating us a coffee or a prosecco :-)
Thank you.
---
---