Massagepraxis Gabriele Lesch
Touch Life (Pregnancy) Massage in English, French, Italian and Polish language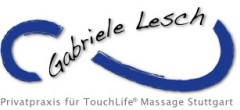 Dynamic, energizing, inspiring and power-giving touch - at the same time radiating calm, energy and power. If you just need a break and need new energy especially also during pregnancy.

The TouchLife® Massage
...rests on the following pillars: massage technique, conversation, energy balance, breath, mindfulness. It includes many different massage techniques, which can be combined as needed.
Preliminary Talk
Before the massage begins, the focus of the session, i.e. which segments are massaged, and the respective state of health are clarified in a preliminary talk.
During the Massage
... you have the possibility to influence the pressure and the speed. Your attention is constantly drawn to your breath and body, making the massage a truly intensely relaxing experience for you.
Follow-up
The follow-up meeting offers the opportunity to anchor the experience of the massage and to give feedback.
Carried out with the greatest possible mindfulness, the TouchLife® Massage aims to treat the person present with respect and thus promote awareness and inner peace.
Please note that pregnancy massage can only be conducted up to 4 weeks before birth.
Also the lower back, feet are exempt from massaging.
Appointments can be booked via Email/Phone or directly on the website, which in currently only available in German - just hit the button - Termin buchen and select your day and time.
Privatpraxis - for TouchLife® Massage
Gabriele Lesch
Forststr. 174
70176 Stuttgart
Phone: +49 (0)711 / 12 17 55 06
Mobile: +49 (0)176 / 23 76 14 82
E-Mail: info@praxis-gabriele-lesch.de