LAUFMAMALAUF: Outdoor fitness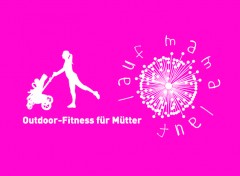 LAUFMAMALAUF has been offering outdoor fitness courses for mothers in Stuttgart
since 2011. Our range of courses now includes options for expecting mums, for recent mums with their babies and for those whose children are a little older and who want to train with a group of equally active mums. All courses take place all year round and outside in the fresh air; we almost certainly have a location near to you.
Our courses have been specifically developed for women both during and after pregnancy. We understand the changes that your body goes through during pregnancy and want to help you safely return to pre-pregnancy fitness levels whilst realizing that this will not happen overnight. Our cardio and strength training is challenging but safe, leaving you feeling empowered and energised. We focus on training your back, stomach and pelvic floor muscles so that you can easily manage all those to-dos that each day brings: be it for you, for your children or for your job.
You can join our classes for expecting mums ('Ganz-schön-schanger') from the 12th week of pregnancy and attend until your due date.
You can start one of our 'Kinderwagen' classes for recent mums from 6 weeks after a natural birth or from 8 weeks after a caesarian birth (ideally with the blessing of your gynecologist). We prefer you to have already started your 'Rückbildung' classes offered via the German healthcare system. Your baby can either be in a buggy or in a well-fitting baby carrier.
Our next level 'Mama-macht-mehr' classes are for mums who have returned to work or for those who no longer bring their kids to our classes. These take place in the early morning or early evening and kids stay at home with Dad whilst you have an hour to yourself.
Get in touch, book yourself a free trial session and come and meet other like-minded active mums and mums-to-be from the local area. You do not need to speak German to attend, as all of our trainers speak a little (or a lot!) of English. We promise you will feel awesome for giving it a go!