ItsFunTashtic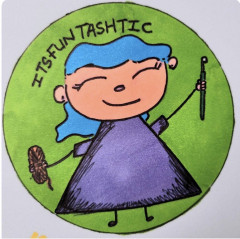 Hackysacks and more things crochet
Granny Tash is a name I came up with, once upon a time during my University years. It was when I decided to learn how to crochet for the sole purpose of learning how to make a hackysack. I think I was a young child when someone first showed my family a colourful little crochet ball. I fell in love. Mostly with the colors and patterns, but also with the fact that this little ball was so versatile and fun.

So, when I had the time, I bought a crochet book and watched countless YouTube videos. My first attempt looked a bit like a gigantic, misshapen egg. Our dogs loved it.

It turned out that I really wasn't a natural at reading patterns and connecting numbers with words and real life! And yet I'm technically a mathematics teacher go figure. However, once it clicked I couldn't stop!

I quickly discovered that all my university friends and acquaintances really loved the colourful, crochet balls too! So there I was, Granny Tash, catering to all to their crochet (hackysack) needs!

I dabbled in making a blanket, baby clothes, a toy, a few random other intense projects and just recently a laundry basket, but my first love is, and always will be, a simple hackysack. It's a random little colourful toy that anyone and everyone can enjoy! And thanks to my dad, whose motto to us as children was to always have fun, what I really want is for people to do exactly that and enjoy something as simple as admiring the colors, teaching their child to throw or stinging their friends in an intense game of hackysack!

And here we are, a good 5 or 6 years later, attempting to sell these fun creations and having an absolute blast doing it too!

Check me out on my etsy store, ItsFunTashtic, or even just contact me over whatsapp! I'm always busy in the Gravidamiga group chat, so you'll see my name popping up every now and then.

Thank you to Kira and Dr Christine for allowing me to market myself on their amazing community platform. They are truly real-life angels.