Anna Cori Seidel
GLOBAL MOBILITY TRAINER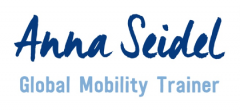 Expat Coach & Coach for Parents of TCKs
Parenting is hard. Parenting outside your familiar community, family, network, language and culture can be really, really hard.
Are you raising your kids outside your passport country? I help parents like you take some of the weight off your shoulders by first and foremost looking after yourself. Then we look at caring for your children and learning about the many challenges and opportunities they will have, growing up as third-culture-kids. As a parent you have the exciting task of supporting and fostering the good stuff while teaching your children how to mitigate and handle the downsides. I help you learn how to do this
I offer talks, workshops and coaching packages to individuals and families, tailored to your needs and individual situation.
I'll meet you where you are on your journey and help you learn to navigate both your expat life & parenting Third Culture Kids with confidence. I offer individual and group coaching as well as family workshops to help everyone (re-) discover their sense of adventure and really love their time abroad. All offers available in English or German.
Global Mobility Trainer
Anna C. Seidel
Website: www.globalmobilitytrainer.com
E-mail: contact@globalmobilitytrainer.com
Phone: +49 176 42738481