Yoga für Dich - Yoga for You
YOGA -COACHING - REFLEXOLOGY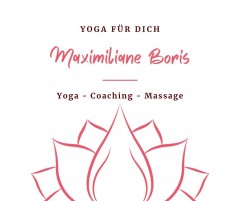 YOGA for YOU has the following offers for women: Yoga, Coaching & Reflexology
YOGA:
Yoga for pregnant women – be a flower of life
Yoga for mom & baby – together we are strong
Yoga for women – the rock in the surf
Yoga for the hormones - happy hormones, happy woman
Individual coaching:
You want to realign yourself as a woman in your life, your profession or you want to prepare mentally for the birth?
Then you are right with me.
Supported with classic coaching tools, as well as yoga, I accompany you in making your ideas clearer and bringing them to reality. Here I am your process midwife:-)
Reflexology (also for pregnant women):
Stand on your own feet and feel your strength. The reflexology massage will be a wonderful companion for you.
Life is tension. However, too much or too little can lead to headaches, malaise, back and joint problems, tension, exhaustion, glandular dysfunction, menstrual disorders and other vegetative disorders.
Reflexology can help here.
Especially in times of change, such as pregnancy, it gives mother and child a feeling of togetherness and security.
I would be happy to assist you with my many years of experience as a yoga therapist and as a mother.
YOGA für DICH


Maximiliane
Boris